WHEN MY WORLDS COLLLIDE
15 April 2005
I have to confess that I am having much more fun than anybody has a right to about a situation which has evolved over the past couple of years.
They say that when God closes a door, he opens a window. Well, God opened a couple of windows after Dave and Paul died and one of the best was the window that led to the world of Steve Schalchlin.
I've told this story before, but, briefly, I had been made aware of Steve through meeting the president of PFLAG, who told me about this wonderful show he had just seen in LA (The Last Session) and then introduced me to his newsletter editor, Gabi Clayton, who introduced me to Steve's e-mail list At the time, Paul was still very much alive and I began to read messages from the members of the list, and found myself interested, but totally lost in discussion of people and plots and characters I knew nothing about. It was also, at that time, quite an active list and it was difficult to keep up with the flood of messages.
Then Paul died and I wrote to the list and asked to be taken off because I just couldn't handle it. Steve removed me from the list, but the private messages of support I received from the strangers on the list brought me back to the list after all the confusion around Paul's death and burial had subsided.
A couple of weeks after his death, the weekend that Paul was to have given his next monologue show, I wanted to be out of town, so we drove to Los Angeles on what happened to be closing weekend of The Last Session, and we went to the show.
Later, Steve (whom I had not yet met) was in San Francisco and I asked to meet him. We bonded instantly and I offered to be the publicist for his appearances around the country. Out of that has come a wonderful friendship. Steve has become my best friend.
But it's unusual when your best friend starts to develop a friendship with your children. Not in a old-person-to-young person way, but in an "equals" way. Since Steve is between myself and Ned in age, he is equally at home with Ned as he is with me. They share a passion for current events and music.
I encouraged Ned to get involved with Steve's discussion board, which he has done. It turns out that Ned is about the age of Steve's youngest brother, and the two of them have had many lively discussions.
Steve had just written his Salvation Song when he was scheduled to come to Northern California to speak with a medical group and a high school group and appear at a memorial service in Sacramento. I suggested to Ned that he get Steve down at Timbertrout, the studio set up by former Lawsuit member, K.C. Bowman. They produced a rockin' version of Salvation Song which was included in the new CD to come out of Timbertrout, as part of the "Preoccupied Pipers" series.
That was a couple of years ago.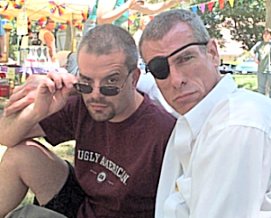 When Steve came to Davis to perform for Gay Pride Day, I took him over to Ned & Marta's house for the two of them to have a visit, which they both enjoyed. Ned made a special trip to come to the Gay Pride picnic to spend some more time with Steve, and Ned's photo was featured on Steve's diary report of the weekend.
The one thing that has frustrated Ned is that he feels Steve should be expanding his musical themes. He kids Steve that he spends too much concentrating on themes that include "God" and "gay issues."
Steve and his partner Jimmy went off on a cruise recently. Jimmy gets hired by cruise lines to give presentations about old Hollywood and Steve gets to go along for the ride. He uses these times to work on music (and make movies). This last cruise, he had no real solid ideas to work on, so Ned gave him a whole list of things he should write about, silly titles like Lawsuit would record.
Steve took the title "Franco Ate the Paperwork" and ran with it. He produced a terrific song, which Ned liked. I suggested that Steve come up to the Bay Area, go back to Timbertrout studio and record the song with Ned and K.C., which he did this past weekend. Steve invited me to go down and hang out with the gang, but getting the family room ready to paint intervened. I'm so glad that it did.
It sounds like Steve had a typical Lawsuit-type day, making music with the guys and even saxophonist Dave Anderson joined the gang to add that Lawsuit horn sound to the recording.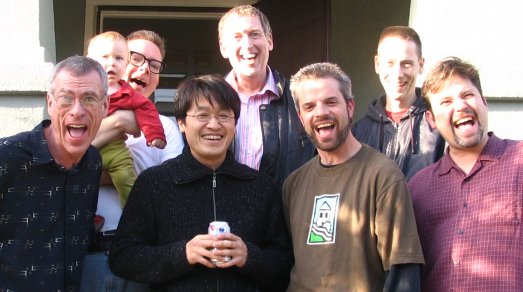 And they made a movie, Ned's favorite thing to do.
I'm just so tickled at watching this friendship between my best friend and my kid blossom.
It was a good window that opened up back in 1999, even if the door that slammed was so very painful.
---
I'm writing this before we leave for St. Louis and will post the link after we get to St. Louis.
---