George Washington's
Rules of Civility
and Decent Behaviour
10th: When you sit down, keep your feet firm and even, without putting one on the other or crossing them.
---
Yesterday's Entries
2000: Bottles of Chance
2001: Confessions of a Klutz
2002: Tool Time
2003: Who is Milton and Why Should I Care?
---
CURRENTLY READING
Afterlife
by Paul Monnette
---
EGO STUFF
---
SHEILA's BLOG
Here's another picture of me and my poodle pal. Look at how much fun I'm having!
Sheila Video 1 ("See Sheila Run")
Sheila Video 2 ("Meet Barkley")
Sheila Video 3 ("Play time")


PORTALS OF THE PAST
2 September 2004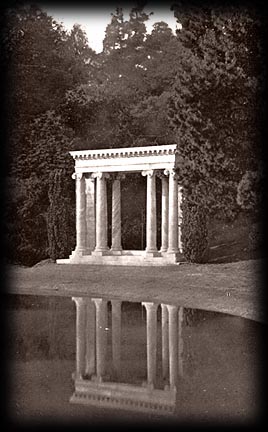 There is a lovely little spot in Golden Gate Park, with a lake and these columns. It's called "Portals of the Past" and it just sits there, unobtrusive, something I'd seen all my life and never knew the history attached to it.
One day I was looking through a book my father had, about San Francisco's famous 1906 earthquake and fire, which leveled most of the city and I came across a photo which stopped me in my tracks. It was the remains of the A.N. Towne mansion on Nob Hill, which had been all but destroyed by the tragic events of April 18. All the remained of the home was the entrance way, the pillars I had come to know as the "Portals of the Past." In fact, it was about the only thing on Nob Hill that did remain standing. After they cleaned up Nob Hill, they moved these portals out to Golden Gate park.
We were at Walt's mother's over the weekend, helping to celebrate her 91st birthday a bit early, before Jeri returned to Boston. The house is looking more and more empty as people come to take things she is getting rid of, or things get carted off to thrift stores prior to her move to Santa Barbara.
All the paintings are off the walls now, ready to be packed by movers but in the back of a closet, my sister in law hauled out this dark painting that she had never seen before and was going to ask Alice if she wanted to take it with her. I looked at it, and darned if it wasn't a very dark painting of the Portals of the Past. We have no wall space left around here, but I couldn't let the painting go to some thrift store, so I said I'd take it. (I could have lightened up the scan of the painting, but it really is that dark, so I decided to leave it. Does anybody know if a painting like this can (or should) be lightened up? I don't know if it was painted this dark or if it has just darkened over time.)
Things are getting down to the nitty gritty now, as Alice tries to find people who want to take the things she has collected throughout her lifetime. Problem is most of us already have houses full of "things" and don't need any more, yet what do you do with collections of a lifetime?
She has a spoon collection, for example. And they aren't even her spoons, but spoons that her mother collected. Nobody wanted them. I have a spoon collection of my own which long ago outgrew wall space for them and half of them are packed away in a box because I have no more room to display them. But when I looked at the spoons, I discovered that one of them was from...The Portals of the Past. Well, I couldn't let that go to a thrift store either, so I have now inherited all the spoons. I'm sure they are worth something, as they were collected probably at the turn of the 20th century or in the early years of that century, are sterling silver, and are larger than the spoons you find as souvenirs today. But I don't have a clue what I'm going to do with these, other than polish them, since they are quite tarnished. (My mother has a spoon collection too, which I will inherit when it comes time for her to pack up her things!)
The problem with a big move is that you always start with such enthusiasm and the big things pack easily. It's when you get to this stage that it gets difficult, especially in the case of a 91 year old woman who is trying to decide what to do with personal items she has saved all her life.
The difficult decisions are with the documents. The photos, the letters she saved, programs from cruises, and all the things that mean something to her, but may or may not mean enough to her children that they want to keep them at their house.
I look around here and realize that we have an even bigger problem with that sort of thing here. They are the sorts of things that you realize have sentimental value, and you don't want to see them tossed out, but you don't really want them yourself either! (My grandfather's scrapbook falls into that category. It means little to me, since it is filled with photos of vaudeville friends I never knew about, but somehow I just can't get rid of it.) So there was a lot of sorting through documents yesterday, trying to decide what gets moved and what gets thrown out.
We did come across a picture of Walt's father which looked a lot like Tom's high school graduation photo.
The whole evening was like that...the passenger list from a cruise they'd taken from Hawaii to the mainland, the guest book from Walt's father's funeral, letters Alice had written home when she was here visiting us, before we got married and before she moved here,
It was as if we were all passing through the portals to the Sykes past, and I guess the question becomes are we going to enshrine all of these precious mementos, like the original portals were put on display in Golden Gate Park, or will we reduce them to rubble, like the rest of Nob Hill. Fortunately I don't have to make that decision.
---
Website of the Day
If you have an on-line journal, check out the Diarist.net awards page and vote for Steve's journal for a "Legacy Award." Heck, he's had the darn thing going since 1996...the 5th person in the world to have an on line journal. Surely that qualifies as a "legacy." Go to this page and check all the nominees in the various categories and then go to this page and vote for Steve! (Unfortunately, you can only vote if you have your own on-line journal.)