Thank you so much for nominating my entry, Cold Heartless Bitch for best coverage of a news event. And congratulations to all the other nominees, especially SecraTerri, The Bitter Hag, and Charlene of Are We There Yet?
---
SIZE REALLY MATTERS
16 May 2002
What a delightful morning I had!
My friend Joan (because of whom I am now working out at the club every day), and my friend Pat have been taking a course aimed at helping people write down their life stories. Pat has mentioned the class to me before and it always sounded kind of interesting, but I had never pursued it.
Joan (again) suggested I might like to visit, and so today I did.
The group consisted of several women (I was one of the younger ones) sitting around a big table in a lovely independently owned book store in Woodland, the next town over from Davis. Apparently each week two of the students are chosen to read from their writings, and be critiqued by their fellow students. (We also read aloud from a book about writing style and discussed that....well, they discussed; I, being who I am, didn't say much).
One of the two readers today wrote about time spent in Alaska in the 1950s, when her husband was stationed there with the military. She had wonderful stories to tell about adjusting to the weather (eyelashes freezing to her cheeks before she discovered that she needed to wear protective eye-wear), encounters with bears and moose (I never realized a moose would attack a car--or that it could flatten it!), the insects (Joan says "I never met a single mosquito in Alaska...they were all married and had large families."), and the gigantic produce on display at the county fair.
Her stories reminded me of the vacation we took when Char and Mike and their kids were living in Palmer, about 40 miles from Anchorage. Jeri had gone to spend the summer with the family (her best friend was daughter #3) and at the end of her time there, Walt and I and the boys flew up to spend a couple of weeks, and bring Jeri back home. It was a pretty incredible experience. The things I remember most vividly are the balloons, the produce and the pig.
We arrived at the time of the Alaska State Fair, which was held on the fairgrounds in Palmer. Palmer is at the end of the long Matanuska Valley and on balloon day, we stood on the fairground and watched a group of hot air balloons glide gently up the valley. This was a race of sorts, and not only did they have to come up the valley, but when they arrived at the fairgrounds, they had to grab something off a pole--not an easy thing to do with a balloon that you cannot maneuver as you wish. The balloon baskets would dip down almost to where you could reach up from the ground and touch them/ The riders stretched their arms out, trying to reach the pole. I don't remember any of them actually making contact with the elusive pole.
As a general rule, since I'm not a gardener, displays of produce don't do much for me, except perhaps for some nice floral arrangements. We don't attend many fairs, so it's not something I've had to deal with much of the time. But at the Alaska State Fair a tour of the produce displays is de rigeur.
The Alaskan summer provides farmers with a long growing day. On June 21, one can play baseball by the light of the sun, which never quite sets (it's the reward for having endured the endless night of an Alaskan winter!). The result of 24 hours of daylight for plants is that their growth goes berserk. Pumpkins fit for Cinderella herself. Blueberries the size of cherry tomatoes. Cabbages that could individually provide cole slaw for a small army.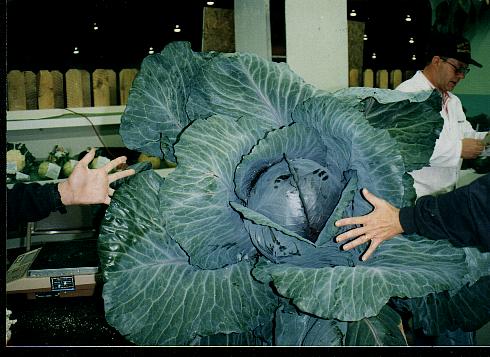 (photo from "John Evans and his Giant Vegetables")
Jeri and Char's kids all worked in the livestock barns. Jeri was in charge of a pregnant goat (which did not cooperate and give birth during the period of the fair, to Jeri's disappointment). Char's daughter Dana was in charge of a pregnant pig, which did give birth one night at the end of the week-long fair. Char and I raced down to the fairgrounds, following Dana's telephone call, to watch the new little piglets get their walking legs, and help keep them from being smashed by Mama Pig, who was so fat she couldn't see all her babies and might roll over onto them.
But the little piglets weren't the thing I remember most. No, I remember a Duroc pig. I suppose I must have known that there are different breeds of pigs, but I'd never encountered a Duroc before. This thing was the size of a small hippo. I'd never seen such a pig in my life (or as Charlotte the spider would say, it was "some pig!!")
I took lots of pictures of the pig, trying to get an adequate feeling for its size (I never did--this was in the days before digital photographs!). When I later mentioned how amazed I was at the size of this pig, Char indicated that she was aware of the pig, and knew his owner, and that an even more amazing thing about this pig was that it was a house pet! A Great Dane or St. Bernard would have been easier to have in the house!
We returned to California and I regaled everyone with tales of the pig and my amazement that the pig was actually a house pet. But the story didn't end there. When I mentioned the pig to Char the following year, as time for the state fair rolled around again, she had another chapter to tell me.
It seems that the wife of the pig's owner finally tired of sharing her couch with a four-legged pig and gave her husband an ultimatum: "the pig or me."
He chose the pig.
[By the way, all those African millions I keep getting offered in my e-mail are in the middle of migrating. They are now coming from Poland and Canada as well. Just in case you're still looking for a good get-rich-quick scheme!]